If your home has very old and/or inefficient windows, it might be more cost-effective to replace them than to try to improve their energy efficiency. New, energy-efficient windows eventually pay for themselves through lower heating and cooling costs, and sometimes even lighting costs. Figuring out what window are best for your home is very important. Diffrenet windows have different air leakage resulting in condensation. Below are the different Types of ENERGY STAR Windows.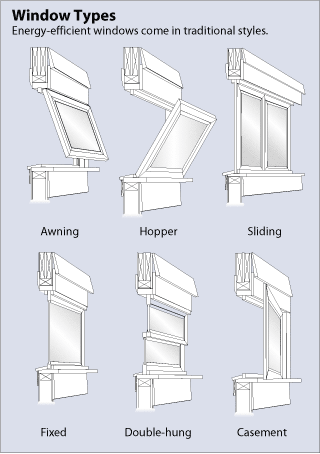 Awning Windows
These are the most functional class of windows, and they are often used to ventilate difficult spaces. They typically come in four types: the top hinge window, the hopper window, the jalousie window, and the transom window.

Pros: Can be left open during the rain, lets hot air out, and gives privacy.
Cons: Too small for large ventilation and brings in dust
Hopper Windows
Hopper windows are like casement windows that have been flipped sideways. They're installed primarily in basements
Pros: The entire pane of a hopper window can be tilted inward to open. This will allow for the maximum amount of ventilation.
Cons: Because these windows tilt into your room shades and blinds are not an option. , if they are open when it rains water will drip into your room.

Sliding Windows
You'll find these windows mostly in modern and contemporary homes. Though the style may be limited, the materials are not. The windows can be made with wood, vinyl, aluminum, and fiberglass. When it comes to matching this type of window, the process is fairly simple.
Pros: Easy to open, sliding nature makes the window good for walkways and patios, and fixed screens are easily added.
Cons: Only one side can open at a time and the energy efficiency can be low.  
Fixed & Picture Windows
Windy cities, harsh environments, and beautiful views are what these windows are made for. Picture windows are completely airtight and are often used in homes that require special design requirements such as rounded windows or corner windows.
Pros: No drafts, high-energy efficiency, no view obstructions, and flexible.
Cons: No ventilation, difficult to clean, and vulnerable to breakage.
Double-Hung Windows
There is nothing that says American traditional style quite like double-hung window. The window consists of a lower and an upper movable panel, which each work independently of one another.
Pros: Easy cleaning, window creates a natural ventilation cycle, and bottom can remain closed while the top opened for air when in kids' rooms.
Cons: Energy efficiency is low
Casement Windows
These are some of the most popular constructions today as they are difficult for children to open and add traditional charm.
Pros: Excellent ventilation, low leakage rate, strong noise reductions, and cranks make them easy to maneuver.
Cons: Blocks walkways and decks when open, large windows are difficult to operate, and the hardware needs to be maintained.